Real food doesn't have to be expensive.
---
We can help.
Over 55 Meals Every Month
---
dinner every night, plus breakfast, lunch and dessert
Complete Shopping Lists
---
once a month for bulk shopping and weekly for perishable items
Detailed Prep Lists
---
helping you get ahead for busier days
Price Guides
---
so you know immediately whether an item is a good deal or not
Frugal Recipe Modifications
---
every recipe is reviewed with a fine-toothed comb, eliminating expensive ingredients you'll only use once
Ideas for Hosting Company
---
have family and friends over without stressing over food or the budget
Substitution Lists
---
simple swaps to keep the shopping list at a minimum
Money Saving Tips
---
tons to get you started plus new exclusive tips with each new meal plan
Slow Cooker Meals
---
included every week to reduce your workload
Freezer Meals
---
opportunities to cook extra and save for a busy night
Budgeting Tools
---
a full library helping you keep your grocery budget in check
Easy to Use
---
get anywhere within the meal plan with a tap of your finger or click of a button
Although I'm a grain-free blogger, I can't recommend Frugal Real Food Meal Plans enough to those who are living a whole grain, real food lifestyle. From the confidence of learning how to meal plan and budget, to the time and money savings in all of the awesome tips and strategies, Frugal Real Food Meal Plans will definitely make your time in the kitchen easier and more enjoyable!
Kelly
Frugal Real Food Meal plans takes the "planning" out of meal planning! I LOVE that. With a busy life and family, having the lists, prep work and recipes done for me takes a little stress out of my life.
Melissa
The biggest objection I hear from people who say they can't eat real food all the time is the cost. Yes, it can be expensive, but it's doesn't have to be. Tiffany has given us an amazing tool to not only eat real food so we can lead healthy lives, but also save money while doing it with easy to follow meal plans. That is awesome!
Whitney
Tiffany has mastered the art of buying great food on a shoestring budget, and her Frugal Real Food Meal Plans are the perfect way to extend that gift to countless families. This is easily the most thorough meal plan service I've ever seen – rarely do you see breakfast and lunch recipes, budgeting tips, and weekly as well as monthly shopping lists in a single subscription. This is a must have for any frugal family!
Dena
55+ Meals Every Month
Complete Shopping Lists
Detailed Prep Lists
Price Guide
Frugal Recipe Modifications
Ideas for Hosting Company
Substitution Lists
Money Saving Tips
Slow Cooker Meals
Freezer Meals
Budgeting Tools
Easy-to-Use Navigation
The Resource Library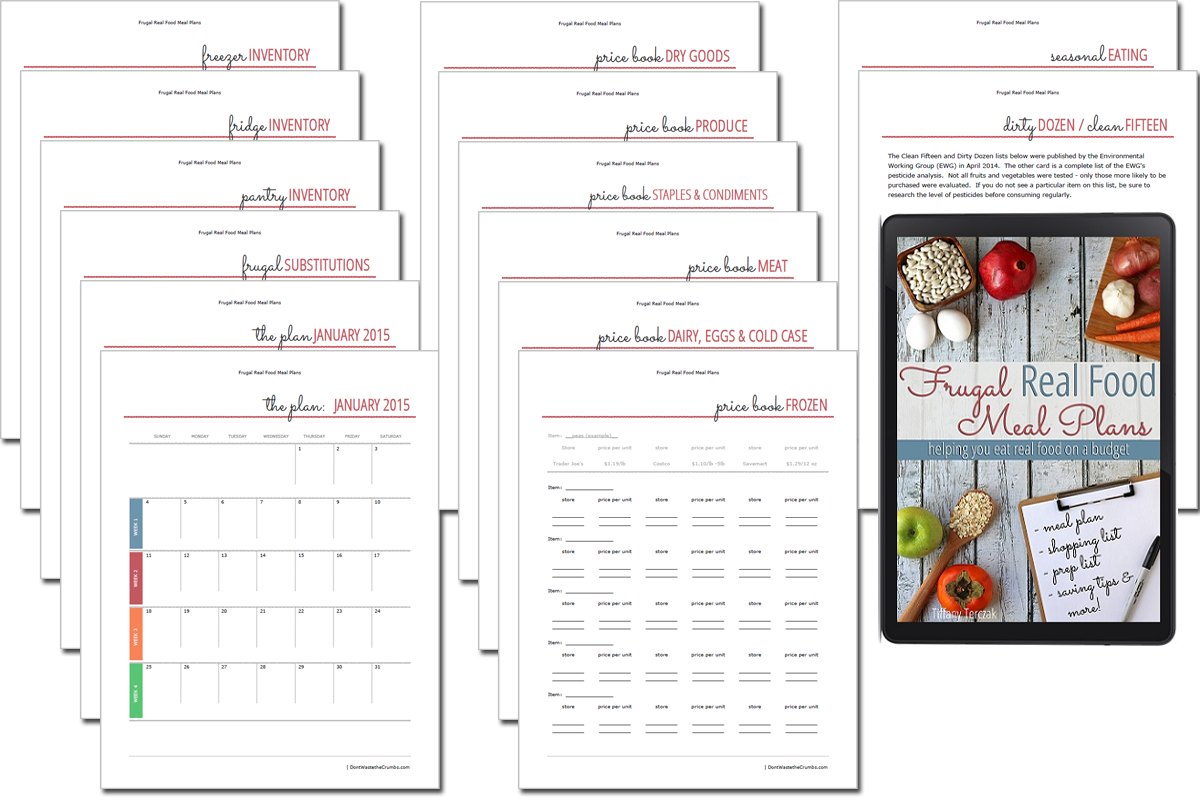 I'm Tiffany, a real food blogger passionate about feeding my family real food… on a real budget.
We used to eat the types of meals where you "just add this" to a box and dinner was ready in 5-7 minutes. Then my husband asked if we could eat real food… you know, the kind that came from plants and animals instead of a box.
I pulled out every money-saving trick I knew, and learned how to afford real food without spending a lot of money, and without using coupons. Lots of people asked if they could do the same thing.
I created Frugal Real Food Meal Plans as a way to teach people everything I've learned, so they can eat real food without going broke too.